Cause-related marketing enjoys a significant share of the affiliate marketing sector. For charities, there are significant benefits to having a brand presence in the browsers of those who make donations. For shoppers and donators, being able to clearly identify who they are supporting is an important motivating factor. Our research suggests that it's essential to display the amount of donations received overall, along with the amount each browser user has personally donated.
With extensive experience in the cause-related marketing sector, we know that all of these features and many more are important when developing browser extensions and mobile apps for companies operating in the cause-related marketing sector.
Browser extensions can be branded "in-flight" which means the user will not miss the chance to make donations for their favorite cause. For more information about browser extensions see below.
A mobile application is a program with list of donations and browsers. This is an easier tool for collecting donations. The user always sees his or her donations, and does not need to visit a website. More details about mobile apps are provided below.
A4C also develops charity API solutions. These can be built from scratch, or we can modify your existing API to support mobile apps and browser extensions.
There are lots of different ways to raise money for charities through browser plugins. Our experience and research shows that the most effective method is to expand functionality. By adding cross-browser support, the number of users will increase. This naturally leads to more donations from loyal users. In this article, we will consider the most popular and most effective ways of raising money for online charity cashback companies. Our customer's statistics shows that charity plugins implemented with these features typically generate between 20 – 40% more funds than those without.
---
Browser Extensions
Price Comparison
Price comparison is a great addition to the basic functionality of your charity browser add-on. Whether the user is intentionally searching for a specific product online, or just randomly browsing an e-tailor such as Amazon, the plugin will keep looking for better deals, and offer the user the same product from other stores, at a lower price. This will prompt a hesitant user to make the purchase, generating commission that would not otherwise have been received.
Users of your plugin will love the valuable suggestions the price comparison features gives at the moment of purchase. In fact, many online shoppers will install browser plugins just for the price comparison feature. If you add this feature to your plugin, a potential customer who is making choice between your charity-cashback plugin and your competitor's is more likely to choose your offering.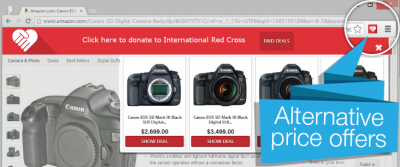 Cross-browser support
Browser Market Share (Feb 2015):
Chrome – 62.5%
IE – 8.0%
Firefox – 22.9%
Safari – 3.9%
Several years ago when Internet Explorer accounted for more than 80% of the browser market, your browser plugin only needed to work with Explorer itself to cover the vast majority of potential audience. Today the browser landscape is very different, with four main browsers all competing for users and sharing a significant portion of the marketplace.
It is important that any newly launched plug-in works across each of these four browsers in order to reach the largest possible audience. Developing a plugin for all four browsers, and supporting four different browser plugins can be a major burden for companies that don't specialize in browser development.
A4C technology not only allows for the rapid development of plugins across all major browsers, it also keeps track of browser changes. Our technology is then updated to support these changes. Our Addons Framework platform, which we use in development of charity browser plugins, is a perfect choice for any company needing to rapidly launch charity plugins that cover all of the browser audience. This same platform then allows for the constant maintenance of the plugin, to ensure it remains compatible with all new trends in ever-changing browsers.
Coupons Autoapply
Coupon browser add-on typically notify consumers of all available coupon codes for the site they are browsing. This places the burden of action on the consumer to browse through the available offers and choose the best coupon from those presented. In some cases, the shopper will be offered more than a dozen available coupons before being prompted to make their selection. Browser add-ons that help the consumer to make the decision are increasingly finding favor. Significantly, the kind of add-on that is rapidly becoming popular takes the work out of the comparison process for the shopper. In fact, the add-on itself decides which coupon provides the best discount and then automatically applies it, providing notable time saving benefits to the shopper and removing the need for guesswork.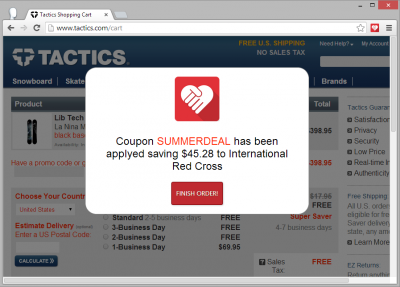 Promoted merchants and charities.
Displaying promoted merchants and featured charities in the add-on menu is a great way to keep the user informed about the top deals you offer in a non-intrusive, user-friendly way. It also helps to keep the time needed to search for beneficial offers and preferable charities to a minimum. Don't miss this opportunity to use real-estate on the user's add-on pop-up menu! This feature really saves user time and is available at a click of a button. Displaying promoted merchants and charities means the user doesn't need to opena website to look for merchants or available charities. This information is accessible at any time and encapsulated within the browsing experience.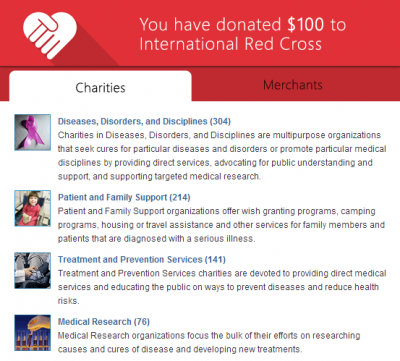 ---
Charity Mobile app
A4C; specializes in developing mobile apps for Android & iOS. Our technology allows us to create mobile apps that puts shopping at user's fingertips. The app keeps the same shopping experience a user would have by simply going online through a browser, with one big difference – it automatically enables your affiliate link, meaning earnings are generated through cashback.
Key Benefits of Working with A4C
Our team specializes in development for cashback companies. We know your business, so you don`t need to educate us. In fact, our team often comes with valuable suggestions for our cashback customers based on our broad experience in online cashback development.
You own the source code of the app, so you fully control your business. You can maintain your add-on with your in-house development team, or you can use us as an extension of your development team.
We support the main mobile platforms: iOS and Android. This helps you to maximize audience coverage.
No royalties, or recurring license costs.You pay for development as you go.
Our vast experience in building cashback mobile apps and knowledge of best practicesin that field allows us to make valuable suggestions to your business.
Our team incorporates strong backend developers. We can set up the API so the add-on interacts with your database. This frees up your team and your resourcing, allowing you to focus on other tasks like building relationships with affiliate networks and business development.
Features of your charity mobile app.
Your cause-related marketing mobile app will become a one-stop shop for all online purchases your users make from mobile devices.
Android
iPhone
Navigation panel
The navigation panel screen displays the main application sections and provides rapid navigation routes between them.
Hot Deals
This screen will display a list of promoted offers. The user will see banners with stores with current offers and the amount of cashback available. By tapping on that banner a new screen opens with detailed information about the store and its deals or a web browser window to begin adding to basket.
Favorite
A list of stores that have been marked as favorite. By tapping on that banner, a new screen will load with detailed information about the store and its deals or for shopping via the web browser with the default cashback offer.
My Account
On this screen the user is able to check their account details and cashback balance history.
All stores
An alphabetical list of all stores and summary information about cashback deals. The list may be filtered by keywords using the search field located at the top of the screen. By tapping on the stores list item, a new screen with detailed information about the store and current store deals will load.
Store deals
The store details screen display summary information about cashback deals and a list of proposed deals. By tapping on that banner a browser window opens so the user can begin to shop, using the selected deal from the list.
Notification
A Google Cloud Messaging client that receives broadcast messages from a 3rd party customer server. Notifications display in the notification area even when the application is closed. Messages can contain short information about new hot deals as they become available.
---
Charity API for Browser Extensions and Mobile Apps
Server side API allows your cause-related marketing browser extension or mobile app to communicate with your database. It fetches deals from your affiliate merchants and passes them to your users, so that they can earn donations. If you do not have a server API available, you can hire our specialists to develop it along with charity browser extensions or mobile apps.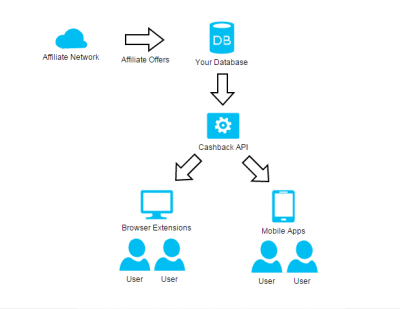 The extension's backend is an interface between the charity extension and any existing charity database. It will provide APIs necessary for the browser extension, and will have a limited reporting functionality.
The backend user interface will allow you to manage a specific lists of stores, called "Campaigns". Campaigns may include the most popular stores or featured stores for the current season or special events.
Key Benefits of using A4C team for server side development:
The development of server APIs and browser extensions/mobile apps resides within the same development team, which greatly reduces communication overhead, opposed to server-side and client-side development split between different teams.
Your developers may concentrate on other tasks for your business, while our team prepares everything required for the cashback extension/ mobile app from your servers.
If you do not have an in-house development team available, you can use A4C as a one-stop shop for all your development needs.