Price comparison is a great addition to the basic functionality of your charity browser add-on. Whether the user is intentionally searching for a specific product online, or just randomly browsing an e-tailor such as Amazon, the plugin will keep looking for better deals, and offer the user the same product from other stores, at a lower price. This will prompt a hesitant user to make the purchase, generating commission that would not otherwise have been received.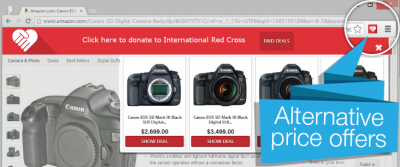 Users of your plugin will love the valuable suggestions the price comparison features gives at the moment of purchase. In fact, many online shoppers will install browser plugins just for the price comparison feature. If you add this feature to your plugin, a potential customer who is making choice between your charity-cashback plugin and your competitor's is more likely to choose your offering.
Key Benefits of Working with A4C
You own the source code of the add-on, so you fully control your business. You can maintain your add-on with your in-house development team, or you can use us as an extension to your development team.
Our solution is cross browser and works on all major browsers: IE, FF, Chrome, Safari, Opera. This helps you to maximize the audience coverage.
No royalties, or recurring license costs. You pay for development as you go.
Our vast experience in building cashback add-ons and knowledge of best practices in that field allows us to make valuable suggestions to your business.