There're billions of web searches conducted every month. Our solution ensures that your users won't miss your affiliated merchant as they search for online shops on the web.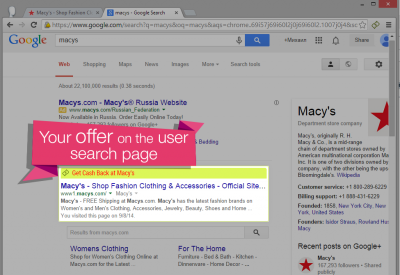 SERP injection means your icon will be displayed next to relevant listings on major search engines such as Google. This immediately alerts the user that they can get cashback from you for purchasing on these sites.
Studies show that icons next to search results help users to make a decision regarding merchant choice much quicker.
The injection can also display messages, telling the user how much of a cashback they can get from the merchant.
Key Benefits of Working with A4C
You own the source code of the add-on, so you fully control your business. You can maintain your add-on with your in-house development team, or you can use us as an extension to your development team.
Our solution is cross browser and works on all major browsers: IE, FF, Chrome, Safari, Opera. This helps you to maximize the audience coverage.
No royalties, or recurring license costs. You pay for development as you go.
Our vast experience in building cashback add-ons and knowledge of best practices in that field allows us to make valuable suggestions to your business.